MeteoCam unit v1
HD video - Davis Vantage Vue - Webcasting - Weather alerts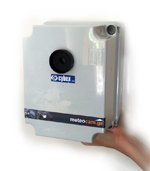 A complete camera and weather station unit by Cybex. Version 1.2.xx has the following features:
Live streaming to ustream.tv or to private media servers
Image FTP to any web server
Davis Weatherlink support, local storage of data and publish to a web server or locally to the camera's web server. See demo here
Email alerts when wind force or temperature or rain rate is greater than a given user value or when temperature drops from a given user value. For example, you get to know when wind got strong or when there is a near by fire or when rain started.
Local image archive
Web admin interface
Auto upgrade to the latest software releases

Version 1 admin Menu sample
5 Mpixel field demo 5 Mpixel
Applications: Ports, marinas, windsurf clubs, kitesurf clubs, ski resorts, hotels, municipalities, traffic cam, events, construction site cam, safety authorities.
CYBEX SA Information Systems and Networking services
18-20 Navarinou Street, Athens 10680, Greece
E-mail:info@cybex.gr Tel:+30-2103617790 Fax: +30-2103617794