Metsovo Kassaros
Meteocams near by
The hotel Kassaros where this Meteocam is installed, is located just 50m. from the central square of Metsovo. It was built in 1980 and was fully renovated in March 2010. The combination of tradition and luxury brings out a harmonious and warm environment. It has 26 rooms, the 7 of them being attics and 3 suites, offering a dreamlike staying. The rooms finesse with the stone decoration, the carvings on the beds, the handmade carpets and the elaborate ceilings according to the old-style Metsovo decoration catches the visitor?s eye. The rooms have a balcony with a fascinating view of the snowy or other times verdurous Pindos mountains as well as the streets of Metsovo. The lounge with the handmade textiles and the wooden hotel bar offers relaxation moments next to the fireplace, while the breakfast room decorated with old Metsovo table photos can travel you to past times. Our care and your preference to the KASSAROS hotel can accomplish what you truly dream!!!
Meteocam operates in accordance with Law2472/1997 and under the guidance of Hellenic Data Protection Authority. Reproduction to other media or storage of still image or video footage is not allowed without the consent of the particular Meteocam owner.
Metsovo Kassaros weather forecast
Local detailed weather forecast - 16 days
Weather forecast by meteoguru.com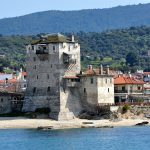 H Ουρανούπολη είναι το κατώφλι του Άθω. Είναι ο τελευταίος κοσμικός τόπος στον οποίο φθάνει ο επισκέπτης που σκοπεύει να επισκεφθεί τη μοναστική πολιτεία. Καθημερινά από το μικρό λιμάνι στη σκιά του Πύργου ξεκινούν τα καράβια στα οποία επιβιβάζονται οι προσκυνητές (αφού προηγουμένως εφοδιαστούν από το «γραφείο προσκυνητών» τη σχετική άδεια) για να φθάσουν στο...
Περισσότερα..