Schinias Moraitis
Meteocams near by
10/11/2021: Νέα ευρυγώνια κάμερα σε δοκιμαστική λειτουργία This is the oldest Beach Cam of Greece and Europe! It was firstly installed in the summer of 1997 as a web camera which updated an image every 1 hour and eventually, in 2014, turned to live stream. The goal was and still is to continuously inform sailing and windsurfing fans about the current weather conditions at sea, such as wind speed and wave height.

Meteocam operates in accordance with Law2472/1997 and under the guidance of Hellenic Data Protection Authority. Reproduction to other media or storage of still image or video footage is not allowed without the consent of the particular Meteocam owner.
Timelapse since yesterday morning:
Schinias Moraitis weather forecast
Local detailed weather forecast - 16 days
Weather forecast by meteoguru.com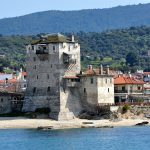 H Ουρανούπολη είναι το κατώφλι του Άθω. Είναι ο τελευταίος κοσμικός τόπος στον οποίο φθάνει ο επισκέπτης που σκοπεύει να επισκεφθεί τη μοναστική πολιτεία. Καθημερινά από το μικρό λιμάνι στη σκιά του Πύργου ξεκινούν τα καράβια στα οποία επιβιβάζονται οι προσκυνητές (αφού προηγουμένως εφοδιαστούν από το «γραφείο προσκυνητών» τη σχετική άδεια) για να φθάσουν στο...
Περισσότερα..