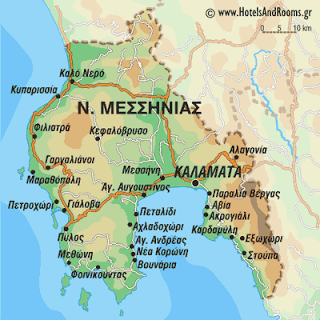 Gargalianoi, also Gargaliani, is a community located in the western part of Messenia. It is passed by a highway. It is located south of Pyrgos, Kyparissia and 15 km south of Filiatra, north of Pylos and Methone and west of Kalamata (68 km) and Messene. Its neighboring villages are Pyrgos to the east, Valita to the north and Marathopolis to the west. It is also a municipality with the seat being this town.
The town has a school, a lyceum, a gymnasium, a kindergarten school, a church, some squares named Kentriki Plateia, , the central square of Gargalianoi along with Kolokotroni Square, banks and a hotel named Ionian View. The sporting facility is to the west.
The area outside the city is surrounded with hills covered with olive trees and grapevines. Its nearby camping site is Camping Proti in Marathopolis.
SK SECURITY ΣΤΑΥΡΟΣ ΚΩΣΤΟΠΟΥΛΟΣ
ΣΥΣΤΗΜΑΤΑ ΑΣΦΑΛΕΙΑΣ
Βασιλέως Γεωργίου Β 22, Γαργαλιάνοι, 24400
τηλ: +30 2763022722 κιν: +30 6947686248
email: stkostopoylos@yahoo.gr
www.sk-secutiry.gr
Meteocam operates in accordance with Law2472/1997 and under the guidance of Hellenic Data Protection Authority. Reproduction to other media or storage of still image or video footage is not allowed without the consent of the particular Meteocam owner.